OS2datascanner is a GDPR scanner that provides effective and reliable protection against security breaches and ensures GDPR compliance for your business.
OS2datascanner is an advanced scanning tool that finds critical and personally identifiable information on websites, intranets, network drives and Exchange mail servers.
Finds critical data
OS2datascanner scans data to ensure that there is no personally identifiable information or other personally critical data, such as:
CPR numbers
Names
Health terms
Credit card numbers
Addresses
Email addresses
But the possibilities do not stop here. With OS2datascanner, it is possible to create and combine search strings for your specific needs. You can write search strings yourself and combine them exactly the way you want, allowing users to customize scans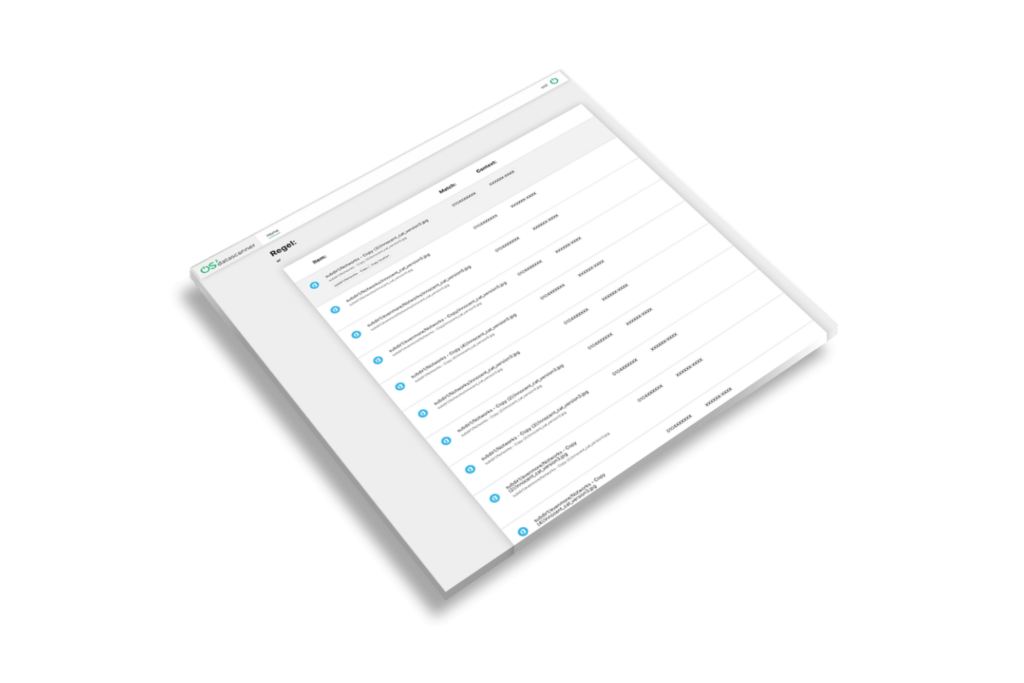 Modular GDPR Scanner Software
OS2datascanner consists of three modules, each serving its own purpose:
Web scanning finds critical data on websites and intranets.
File scanning finds critical data on network drives
Mail scanning finds critical data on Exchange mail servers
Self-service solution and local installation
Web Scanning is offered as a cloud solution by Magenta. No sensitive data is stored with us. Instead, a reference to where the data can be found is stored. File and email scans are set up on your own server. This protects the scans with the same level of security as the rest of your business, and the data remains in your possession.
Web scanning
The Web Scanner module finds all relevant types of data on a website:
HTML content on websites and intranets
Office suite – documents, spreadsheets and presentations
Scanned documents and photocopies
Images and PDFs (OCR scanning)
The Web Scanner module can also follow a sitemap and scan data that is not linked from other websites. The module can also find dead links.
OS2datascanner does not save the results of the scans. So you can be sure that the results of the scan are known only to your users in the company.
Your users and scanned domains must be approved by Magenta and internally in your own organization. This ensures that OS2datascanner can only scan your own websites.
Scanning files
If OS2datascanner is to be used on one or more file drives, the solution must be placed on an internal server at your site behind firewalls and other security mechanisms.
You set up the server yourself. After a discussion about the scope of your scans, you agree on specifications for the server with Magenta.
The server must be installed with the Linux operating system Ubuntu.
The file scanner downloads the contents of the file drive to the server you provide. Once the files are downloaded to the server, they are scanned in a continuous process that overwrites previously scanned files as they are scanned. This allows very large amounts of data to be scanned without exceeding the capacity of the server.
What file types are scanned?
It scans for html, text, pdf, zip and csv. In addition, all kinds of Office files (doc, docx, ppt and xls) are scanned. Images are also scanned (png, gif, jpg).
In addition, based on the metadata of the files, the GDPR scanner will check whether the files have been scanned previously. You will be able to scan according to a wide range of criteria, including words and combinations of words.
In Egedal Municipality, we began to look around for a scanner of sensitive personal information up to the entry into force of the Data Protection Ordinance. We have now for half a year had a fruitful collaboration with Magenta and look forward to OS2datascanner in its upcoming version will include many of the features we have requested, including the ability for individual reports to the individual employee based on Active Directory and OS2gir. It will give us a tool that distributes an otherwise somewhat heavy administrative process to several, and it will help to create a shared responsibility for the work with OS2datascanner GDPR scanner and raise the individual employee's awareness and sense of ownership.
Working with OS2 products is obligatory – also for us customers – and the opportunity to influence a product yourself means that OS2datascanner now appears as a solution that is based not only on our current but also on our future needs, e.g. . the possibility of scanning also of cloud drives.
Carl Haas, information security coordinator in Egedal municipality.
Mail Scanning (Exchange)
OS2datascanner can handle out of the box all versions of MS Exchange that support the EWS managed API.
Magenta may, by agreement, resolve mail scanning on other versions of Exchange or other mail systems. Contact us for an offer.
The mail scan retrieves mails and mail folders to the scan server.
The GDPR scanner retrieves leaflets for one user at a time, then scans folder by folder. On the server, the user is overwritten when a new user is retrieved, so that data is deleted immediately. And since this is an in-house solution without Internet access, there are no GDPR issues associated with the solution.
The mail scan takes place in the same way as with file scanning, and criteria for the scan can be set up just like for the file scanner.
The mail scan can send a report to selected people indicating the places where unsafe mails are located.
The mail scan can also be set up so that the individual user receives a report with links to the folders and mails that contain sensitive material.
Benefits of OS2datascanner GDPR Scanner
Secure scanning of sensitive personal data in compliance with applicable GDPR regulations.
Flexible GDPR solution in modules according to scanning needs
Future-proof GDPR tool that is continuously developed according to requirements and legislation