As responsible for library's safety and audience-PC's, OS2borgerPC offers an efficient tool to protect citizens.
We developed OS2borgerPC in collaboration with Aarhus Kommune. OS2borgerPC can be combined with OS2cabinet, essentially providing you with an incorruptible PC with extra protection against keyloggers.
The citizen is secured
The OS2cabinet physically protects against plugging USB-keys into the audience PC's. Furthermore, the OS2borgerPC software makes sure to log out the user of the PC when the user leaves the work station. All userdata on the audience PC is deleted so that the next user cannot get access to confidential information.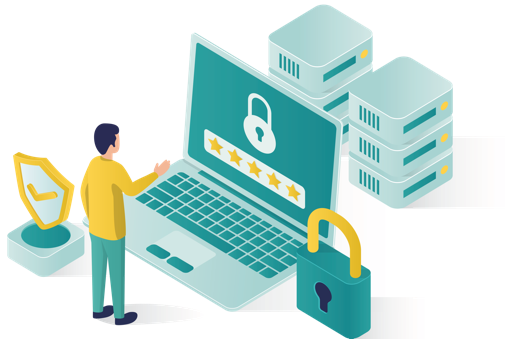 With OS2borgerPC You Get:
Central management of security with safety alerts in case of misuse of the PC, monitoring of software keyloggers, etc.
Web-based centralized administration making it possible to roll out lots of freely available functionalities.
Management of info-screens.
Insurance that all user information will be deleted once the user leaves the audience PC.
'The system is easy to use, especially when having a lot of devices that must be managed. It works well as it enables controlling the different devices' setup through scripts'

René Krøll – digital librarian at Ballerup Bibliotek
Everything is delivered on an open source license with an inexpensive subscription.
Magenta hosts and operates OS2borgerPC and offers an operating agreement with system support.
How we work at Magenta
At Magenta, we have developed a delivery model that ensures your project goes through the necessary steps to achieve the best possible end result. The model is based on best practices, twenty years of experience with agile IT development and focuses on quality.