OpenDesk realizes the vision of a software providing the administrative employee with optimized workflows is realized, through access to the necessary and relevant functions in one place. OpenDesk is a simple, intuitive and web-based user interface.
The main idea behind OpenDesk is that important and relevant functions can be presented to individual employees in a manageable way. These are areas such as collaboration, tools for editing documents and projects, mail, calendar, integrations to Intra, ESDH and various payroll and business systems.
A large proportion of the administrative staff in the municipality only need a subset of the overall functionality offered by various systems, and often do not need access to the complicated business systems.
About 60 percent of municipal employees can work more efficiently and quickly with limited access to the functions they need. The user interface ensures that only the necessary functions are available to the individual employee in a manageable and simple manner.
OpenDesk is web-based and provides functionality in a platform-independent environment. Essentially, OpenDesk requires only a browser and Internet access.
The current setup, implemented in Ballerup Kommune, consists of functionality related to collaboration, document and project handling, and editing tools. The function-giving functionality for these areas is provided 100 percent by open source components.
Architecturally, OpenDesk's user interface is decoupled from the underlying function-giving system (see figure below).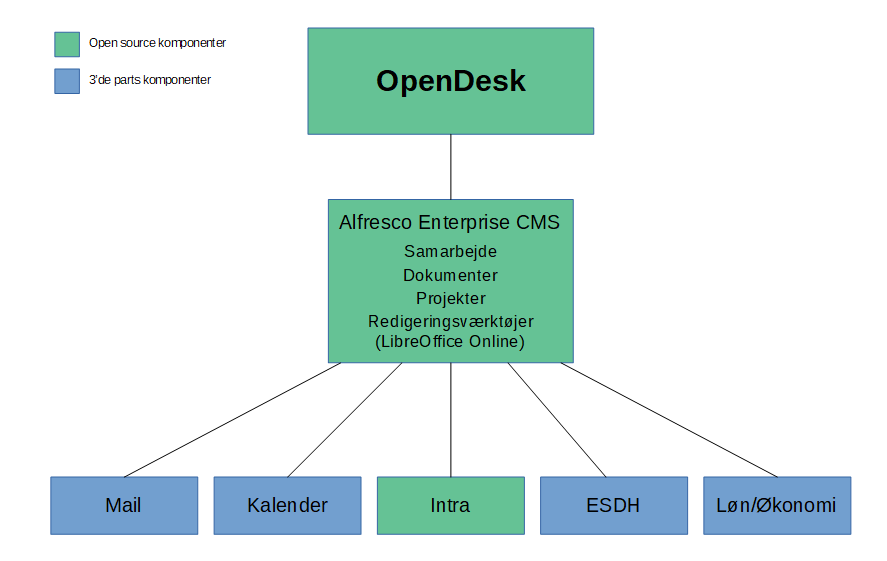 The architectural design means that you can continuously replace one or more of the function-bearing systems with open source components without affecting the OpenDesk user interface.
In addition to providing employees with an intuitive and easily accessible work tool for their daily work, OpenDisk's future goal is to greatly reduce the TCO (Total Cost of Ownership) by using more open source components and having them replace the 3-part systems that require licenses, such as MS Outlook.
Benefits:
Simple web-based user interface that provides employees with an intuitive and easily accessible work tool.
OpenDesk can be customized to meet the needs of the individual employee in terms of access to the required system functions, depending on the work tasks. This makes the workflow fast and efficient.
Due to the architectural design, the functional system can be replaced as needed.